This article was originally published here.
Time to roll out the red carpet for the third bitcoin halving event to happen:
From the October 31, 2008 Satoshi Nakamoto-authored whitepaper, to the January 3, 2009 blockchain network software system code release, to Hal Finney and bitcoin's creator making the first decentralized peer to peer transaction just six days later, bitcoin has now endured 4,141 days of being a borderless, innovative payment network with a new kind of money.
It is now under 1 day in which the third Bitcoin halving of the remaining thirty three left in which the reward for miners will be halved from 12.5 to 6.25 Bitcoins. And this means the number of daily coins being issued for the next four years until 2024 will only be 900 BTC per day as opposed to 1,800 BTC per every 24 hours. This "bitcoin phenomenon" occurs after every 210,000 transactions and will not stop until roughly the year 2140, a 120 years from now. This means while almost 88% of all the bitcoin were issued within the first 11 years, it will take a very long time for the rest of new bitcoin to be issued every ten minutes.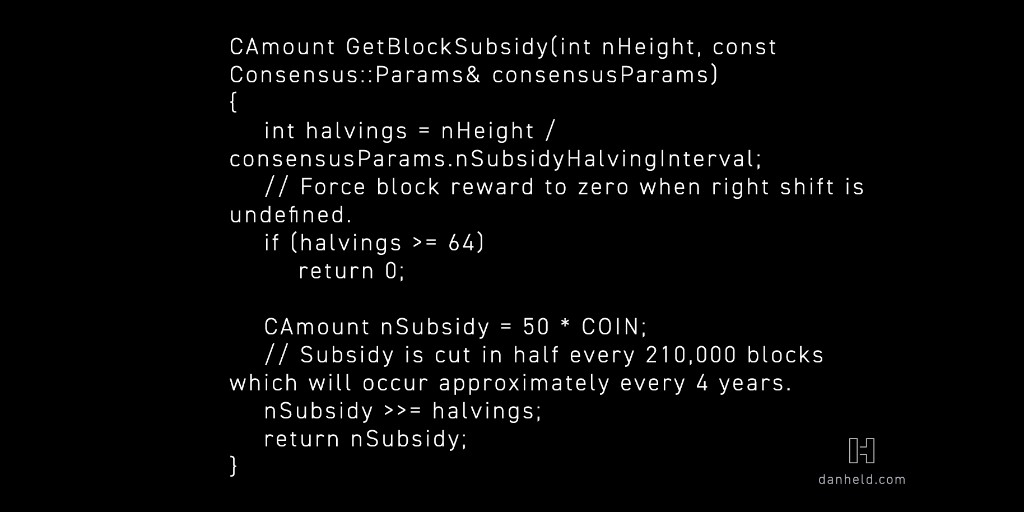 When bitcoin first began, from January 3, 2009 to November 28, 2012, the BTC-blockchain delivered 50 BTC every 10 minutes, making every day 7,200 new coins were freshly minted. From November 2012 to July 9, 2016, the BTC block rewards were reduced to 25 BTC every 10 minutes, or 3,600 BTC per day being hashed. Now, from July 10, 2016 to May 12, 2020, the BTC rewards will be dropping down from 12.5 BTC to only 6.25 BTC per new block which will have a gradual quantitative hardening effect as only 21 million are ever to be in circulation.
There are lots of things happening in the market and it is hard to tell what effect the halving will have in the market. As the price of bitcoin is over 1,500% higher since its last halving on July 9, 2016, when it was roughly $666 in BTC/USD exchange rate value, many wonder what short term implications will be had on not only Bitcoin, but all of its offspring crypto coins and tokenized projects.
1/ #Bitcoin fundamentals are stronger than ever.

As the halving approaches, let's zoom out and look at how on-chain fundamentals have developed historically, and how they compare to the last halving.

TL;DR – Network fundamentals are compelling; long-term bullish $BTC

THREAD pic.twitter.com/7ck4TK3iHa

— Rafael Schultze-Kraft (@n3ocortex) May 10, 2020
In the recent past, the event has led to an increased interest in the market in which Bitcoin's value has surged to the $10,000 barrier on May 8, 2020, which indicated a full recovery from the infamous Black Thursday market crash. In the meantime, the entire crypto market cap has already surpassed the $270 billion.
By May 8, 2020, the hash rate of Bitcoin network hit an all-time high (ATH) while the difficulty level hit 16.10T. Besides, freshly added as well as active addresses increased by 22.52% as well as 13.03% respectively. The data represents a seven-day average, where the active addresses hit about a million addresses.
The halving event has also seen the level of awareness increased tremendously. The words 'Bitcoin halving' has hit a high of 100 within the start of May 2020 which is more than four times during the 2016 halving. Majority of the crypto enthusiasts are interested to know how the halving will impact the market.
Europe tops among the regions that are more enthusiastic in regards to Bitcoin halving. Malta, Saint Helena and Luxembourg have the highest number of searches about Bitcoin halving. It is also notable that these countries have enacted friendly regulations which recognize and support cryptocurrency.
Notably, in the last one month, there have been increased interest about Bitcoin halving in Africa with Nigeria being ranked fourth while South Africa coming in seventh in search.
In the recent past, Bitcoin has been in high demand in the world as people are avoiding the use of cash in the wake of COVID-19 pandemic. Bitcoin is also emerging as a strong alternative investment option in the market as other assets have decreased.
For more reading from some of the crypto community's most consistent contributors, check out the piece on:
Chart with #bitcoin S2FX model prices. Note S2FX is not a time series model like S2F, but a cross asset model. I just converted the 4 S2F-MarketValue clusters into BTC prices in the corresponding period.https://t.co/cQEv7Qvu64 pic.twitter.com/uWVqD5NrXh

— PlanB (@100trillionUSD) May 10, 2020
As a casual reminder, no matter what bitcoin does or fails to do in the near short term, as the world slips into near-uncontrollable printing of money, bitcoin is continuing is day-one path of trusting the code and math that is free from human error or greed.
It took the United States 200 years to reach 1 trillion in debt.

This quarter alone, we will be borrowing 3 trillion.

— Girl Gone Crypto (@girlgone_crypto) May 10, 2020
As Bitcoin and its #whenlambo moon boy fan club celebrate its set in stone principles in the upcoming halving, whether bitcoin survives, thrives or nose-dives is not of great importance in the short term, as the saying goes:
"millionaires watch the market, billionaires watch the stars"
Is the price of Bitcoin going to moon? Is it on its way to mainstream stardom and accepted by Wall Street and institutional investors? Who knows exactly, but first order of business is to embrace its third split in rewards issued and understand the gravity of just how important this phenomenon actually is given the uncertain economic turmoil the world is facing today.
In a fast paced modern-day world that has been on lock down for the past few months during the 2020 quarantine season, we tend to forget that baby steps still move us forward and what bitcoin is doing is not just a small step for the crypto ecosystem, but one giant leap for the global backbone of the financial infrastructure system as the leading cryptocurrency continues its quest to be the programmable money of the future.
Live Bitcoin (BTC) Price:
1 BTC/USD =
$8,670.8774

change ~

1.02%
Latest Bitcoin Price News and Crypto Market Updates
Latest Bitcoin Halving Updates
loading...